Current power supplies for military and government operations rely heavily on diesel generators, which are often oversized and lead to inefficiencies and increased emissions of heat, noise and exhaust fumes. Diesel dependency is a critical vulnerability and severely limits the resilience and operational capability of deployed forces, especially in conflict zones where fuel supply requires regular convoys through contested areas. This logistical challenge must be addressed from the perspectives of improving operational capabilities, increasing resilience and autonomy, reducing the environmental footprint and costs, reducing the signature and visibility of deployed forces and expanding their area of operations.
In addition, NATO forces have set themselves the goal of becoming climate neutral by 2050. In June 2021, the Defence Ministers of NATO member states issued a Joint Statement on the Climate and Security Agenda, committing to recognise climate change as a threat to international security and to take action to minimise the impact of defence activities on the environment.
New technologies must therefore be combined to sustainably reduce the need for diesel and expand the capabilities of troops. Only in this way can energy be permanently provided in a demand-oriented, secure, cost-effective and regenerative manner. Thus, the energy infrastructure of armed forces no longer depends on individual methods of energy generation, but focuses on selecting the appropriate energy sources for the requirements of each mission.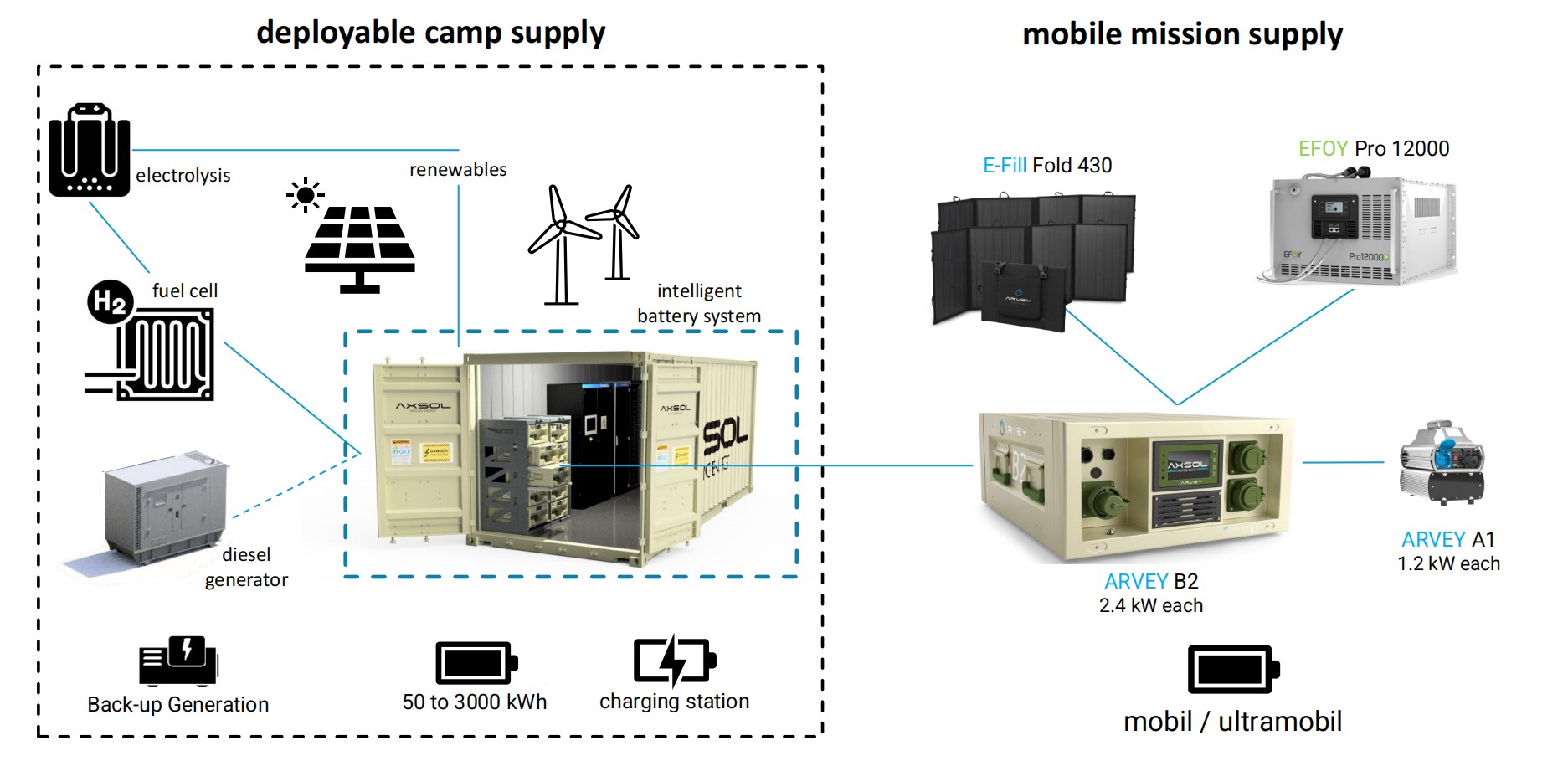 For an environmentally friendly energy supply, a demand-oriented, safe and regenerative substitute energy source is needed. In the future, EU forces are expected to need only less than 50% of the volume of diesel needed to meet their energy needs today. At the same time, electrification will continue to advance . In 2019, the USMC found a 700% increase in electrical energy consumption over the last five years and projected the same increase within the next three years. Another study found that electricity demand per soldier has increased by a factor of 20 since World War II and will continue to increase in the future (Powering the U.S. Army of the future, 2020).
First of all, existing diesel generators should therefore be used more efficiently and in a more hybrid way. In addition, a central, intelligent energy storage system will have to combine all energy sources in the future and decide independently and intelligently which energy mix is ideal for the prevailing climatic and tactical conditions. This is the only way to achieve a secure, resilient and independent power supply that also reduces the carbon footprint.
AXSOL's Hybrid Battery Systems thus represent a central, intelligent energy storage system. They combine the intelligent system control of the stationary Energy Container Solutions with mobile power supply through the ultra-mobile ARVEY B2 battery storage systems. A fully integrated energy storage system for a flexible, uninterrupted, self-sufficient and secure power supply in demanding environments.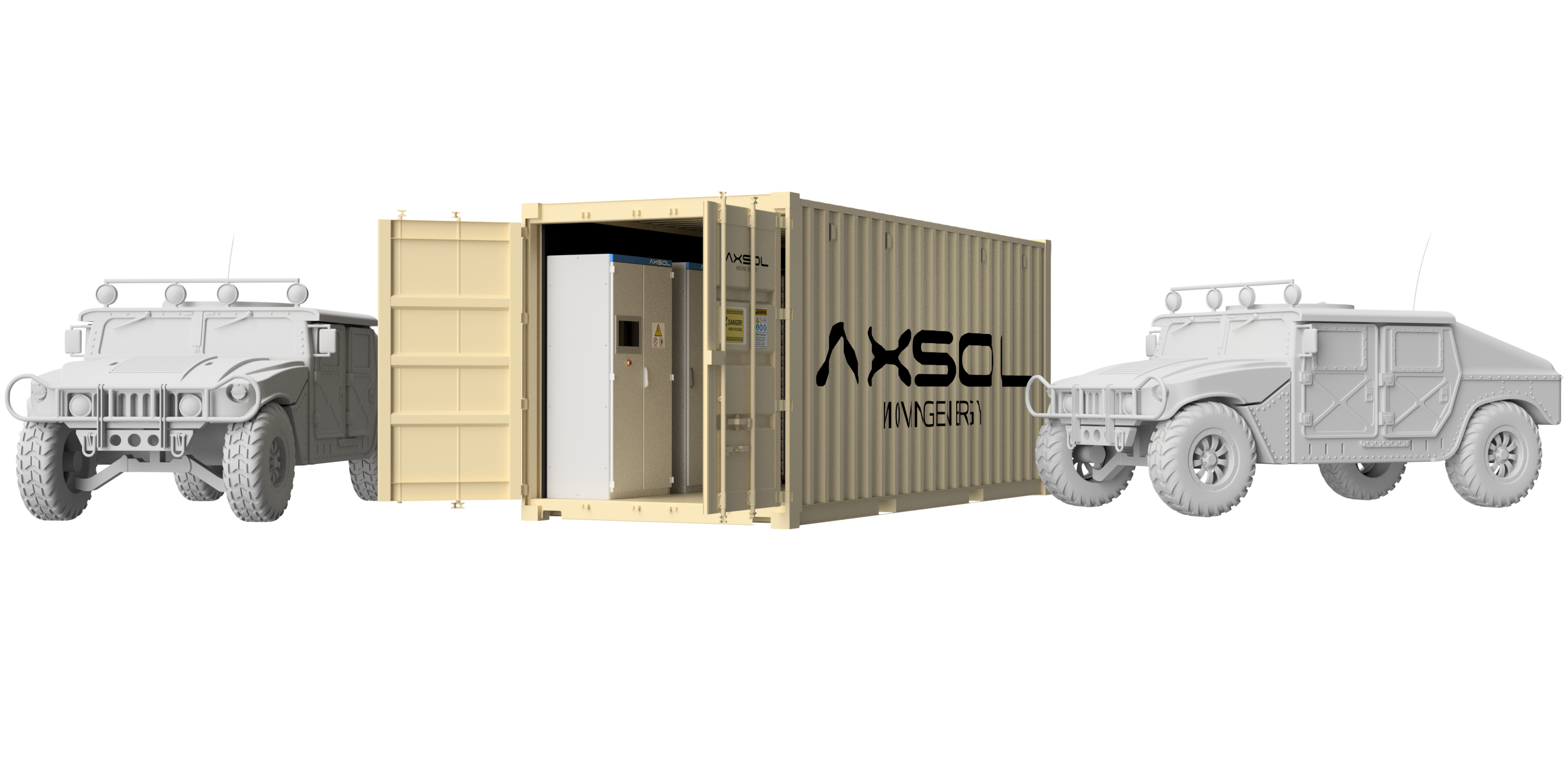 The conversion and hybridisation of the military's energy supply will take place in three stages:
1. hybridisation of diesel generators with renewable energy sources and battery systems will help reduce fuel consumption and emissions by up to 30%.
2. the introduction of dual-fuel fuel cells (diesel to hydrogen) will facilitate the transition to sustainable fuels and increase overall energy efficiency by 100% (60% fuel consumption and emissions savings).
3. renewable energy will act as the primary energy source with hydrogen fuel cells and diesel back-up.
As the central charging station of the Hybrid Battery Systems, the Energy Container Solutions bundle the data of the generators and consumers in order to decide situationally on the energy flow and power distribution in the system. The goal is a 100% secure power supply in operation, minimization of supply costs and priority use of renewable energy generators. The ultra-mobile ARVEY B2 battery storage units, as the mobile part of the Hybrid Battery Systems, are charged in the Energy Container Solutions slide-in racks and can be removed and transported to the site of operation when needed.
The Energy Container Solutions are central charging stations of the Hybrid Battery System, which enables a secure power supply in the field. The ARVEY B2 battery storage units are charged in the plug-in racks of the Energy Container Solutions and can be transported to the site of operation on a mobile basis.
The Energy Container Solutions are stationary battery storage systems customized to supply temporary camps to permanent bases. The modular scalable LFP battery storage with matching power electronics is provided to the user as a hardened ready-to-use solution. The intelligent system control ensures increased efficiency, safety and sustainability in the supply.
The Energy Container Solutions are customizable stationary battery storage systems that can be deployed from temporary camps to permanent bases. LFP battery storage is modularly scalable and provided as a hardened ready-to-use solution. Intelligent system control enhances power efficiency, security and sustainability.
The ARVEY B2 is a mobile battery for power supply in the field with 2,400 V power. 230 V AC loads are connected via two fused sockets and draw electrical power from the safe LFP battery. The battery can be charged simultaneously by generator or grid power, as well as by renewable generators such as solar and fuel cells. The vibration-damped Mitraset enclosure protects the electronics and complies with the defense equipment standard.
The ARVEY B2 is a mobile 2.4 kV battery for powering 230 V consumers in the field. The LFP battery can be charged simultaneously from various energy sources such as generator, grid, solar energy and fuel cells. The housing is built according to defense equipment standard and protects the electronics.
Output
AC Output
2.300 W
Connections
2x 230 V AC sockets
Battery
Capacity
2.250 Wh
Chemistry
LFP
Input
Generator, mains, photovoltaic, fuel cells
Standards
Device
VG 96968-1, CE (LVD, EMC, RoHS)
Battery
CE, UN38.3, IEC62619, UL
Housing
VG 95447 / AECTP Standards / MIL-STD-810 / MIL-STD-810 F / MIL-STD-285
Use Cases
Hybridization with SEA with built-in UPS function or stand-alone use possible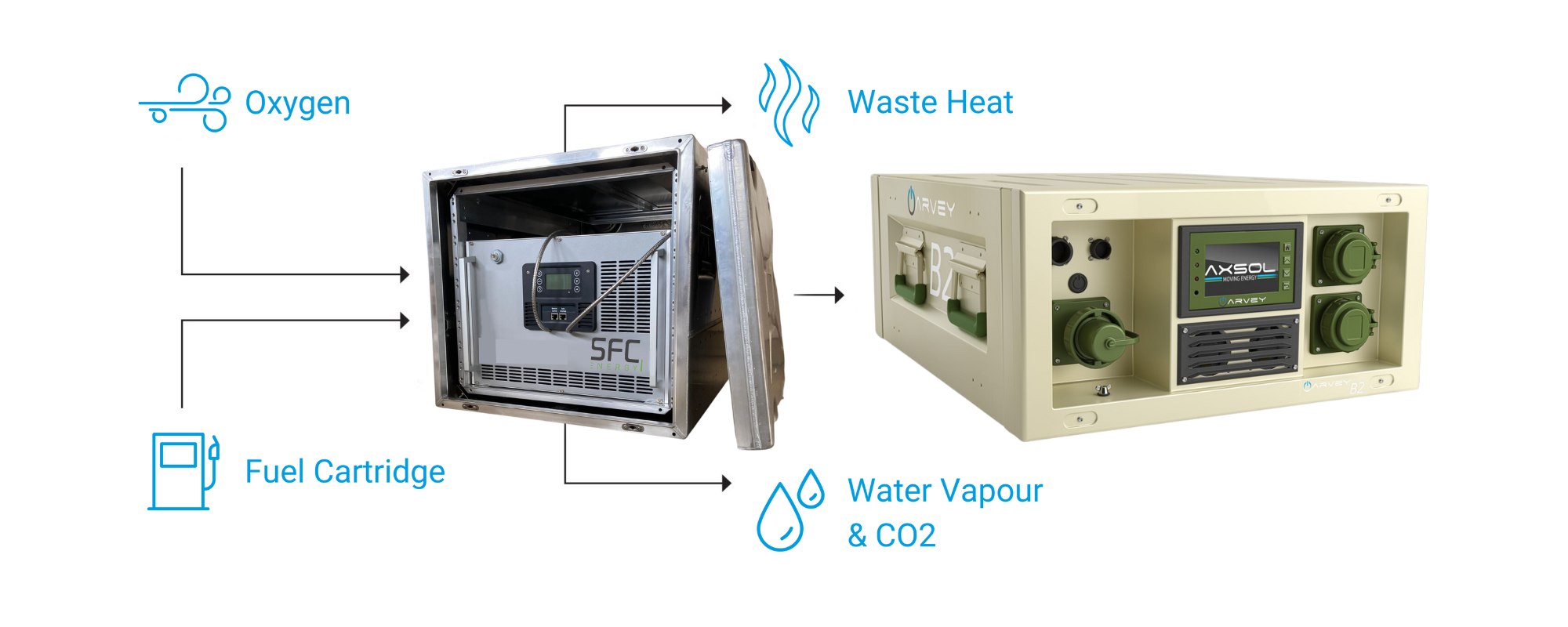 The ARVEY B2 mobile battery can also be coupled with a fuel cell from SFC. This coupling has several advantages. By using these systems, the risk of loss of life and material during fuel resupply in conflict areas like Afghanistan and Mali can be reduced. This is because transporting fuel requires regular convoys through combat-affected areas. In addition, the coupling increases the efficiency of the entire system compared to diesel generators. By communicating between the two systems, only the necessary power is provided, which leads to a significant increase in overall efficiency. In addition, operation is safer because methanol is used as fuel instead of diesel, which reduces the risk of accidents. Finally, costs can be significantly reduced as the price of diesel in operating environments can be as high as €180 per litre. The use of fuel cells and batteries can significantly reduce the cost of fuel.

We are happy to maintain a strong partnership with CGI, a leading IT and consulting company and expert in deployable infrastructures for military operations. Thanks to CGI's IT expertise and AXSOL's know-how in the field of power supply, we enable fully self-sufficient military operations in the field. Our partnership focuses on the topic of "mission-capable IT in combination with power and energy components", and our goal is to provide military decision-makers with an accurate picture of power supply in the field.
Our solutions address several important issues at once. Not only do they improve the capabilities of users, but they also reduce consumption and the associated dangerous transport of fossil fuels and make operations safer. Decarbonisation also plays an important role for the armed forces and we are proud to support them in reducing their CO2 emissions.
AXSOL and Pop Up City Inc. won first place in the first round of the Canadian Department of Foreign Affairs IDEaS contest and have now moved on to the next phase of the project. The Pop up City Contest is a multi-stage competition to develop energy, water and waste management systems for Relocated Temporary Camps (RTCs). The goal is to manage the energy, water and waste needs of an RTC regardless of climatic conditions and to reduce fuel and water use and waste generation by 33%. AXSOL has already achieved great success in this competition by achieving a 42% reduction in the carbon footprint of intermediate and insertion storage of RTC infrastructure.
The project will build a complete energy system, including battery storage, a PV system and diesel generators for back-up power. A prototype camp will be built between July and October 2023. The aim of the project is to reduce dependence on fossil fuels and promote the use of renewable energy.